Holidays to Uzbekistan: Stop 1 on the Silk Road
March 6, 2014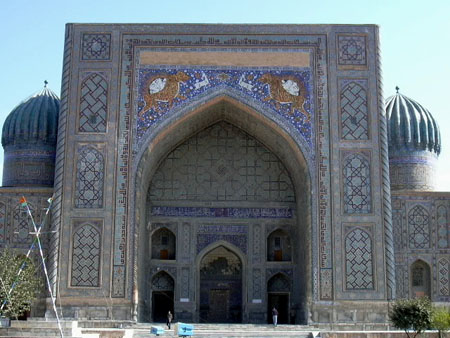 Uzbekistan may not be a top destination on most holiday makers list but it is a great destination for an intrepid traveler who wants an off the beaten path experience. There is also plenty of opportunity to travel in luxury, so Uzbekistan tours are becoming ever more popular with wealthy visitors. It is a cradle of civilizations and considered a treasure house of cultural heritage with its ancient customs and traditions. Its history is weaved along the famed Silk Road which was trodden by caravans from different and distant lands to trade their goods. Uzbekistan's major cities are set along this ancient road, it is impossible not to fall in love with their unique attractions and the wonder of one road taking you to such exotic places:
Tashkent
Tashkent is the capital of Uzbekistan and the most beautiful in the country. It is lined with streets and avenues which are decorated with beautiful gardens and fountains and lush green parks. The city is also alive with modern architectural complexes such as Zengi Ata and thriving markets.
Samarkand
It is a historic town situated in the valley of River Zarafshan and has a surprising selection of antique monuments. The historical monuments represent a rich past that only they can tell. The major monuments include the Bibi khanum mosque and the majestic temple where different religions can pray to their deity. This is a popular stop on tailor made Uzbekistan holidays where you can experience the area to the full with a guide.
Bukhara
Bukhara is a city that dates back to the Middle Ages and its existence is characterized by a number of architectural monuments such as the Fortress Arch right at the heart of the city. The Silk Road cuts its way through this city and it is great to witness the wonders that caravans left along.
Khiva
It is a desert city known for its majestic historic monuments. A stroll through this city takes you to a variety of spellbinding mosques, minarets, mausoleums and Medrassahs of ancient times which give this city such a unique look.
The Silk Road does not merely end in Uzbekistan but rather meanders through the picturesque landscapes of golden sands to various destinations which are perfect to move onto from Uzbekistan if you have time to extend the holiday and sufficient travel insurance cover. If you have not had enough of where you have been through you can head to Kazakhstan, which has beautiful landscapes and ancient architecture. You can also witness the ancient wonders in Turkmenistan which dates back to third millennium BC, as well as the former capital Almaty which is situated at the foot of Zaili Alatu Mountain range.
Kyrgyzstan is a playground for adventure seekers as it is dominated by the majestic Tan Shan Mountains. They provide wonderful terrains for sweat breaking activities such as rafting, trekking and heli-skiing. A visit to the city of Bishkek is rewarding with bazaars selling everything from food to carvings and China goods. It was after all a resting place for caravans along the Silk Road; you too can take a break here.
Tajikistan gives you a taste of the Persian culture; it is a mountainous country famous for Alpine lakes and Glaciers.
Turkmenistan is rich with bazaars and museums. The rotating wheel of the former leader is a spectacle to behold while the amazing ruins of Merv give you a peek into the past.